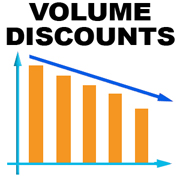 Your VoIP service provider business depends on many products and services all working together to form a cohesive offer for your customers.  At the heart of this is your softswitch solution, which provides the intelligence and the integration that links all this together.
Like many aspects of VoIP, your switching costs can vary according to your volume of minutes per month.
If you use a hosted softswitch and billing solution, here are some important questions to ask:
Does your softswitch provider offer volume discounts?
Are those discounts automatically applied?
Are the discounts explained in writing before you sign up?
Are there penalties for using too many or too few minutes?
Are prices stable for the long term?
Request Info »
Telinta offers volume discount pricing for our white label hosted softswitch and billing solutions.  As your minute volumes increase, your overall cost-per-minute decreases significantly.
We charge for your outbound off-net minutes.  With Telinta, your inbound and on-net minutes are free!  Each month we total up your billable minutes, and automatically apply our volume discounts.
As your traffic increases or decreases from month to month, we automatically calculate and apply the best price for your level of usage.  There are no plans to choose from, no volume commitments, and no penalties.
Before you become a Telinta customer, we provide you with our volume discount pricing in writing.  Ask to see a brief video detailing our discounts, or better yet – let us explain it to you during a live demo of our platform.  Trusted worldwide, with continuous operations since 2002, Telinta's volume discount pricing has remained stable for many years.