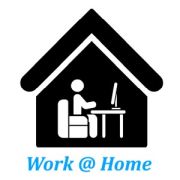 VoIP service providers have many advantages over legacy telecom providers.  One timely advantage is the instant ability to offer Work-at-Home services to your business customers when they need, quickly and cost-effectively.
Let's take a close look…
1. Flexible Call Routing
VoIP enables you to easily re-route calls to another business location, or to employees' homes. You can help your customers with Business Continuity when and where they need it most. As long as they have a broadband internet connection at home, they can use your services anywhere in the world where VoIP is available.
2. Self-Care Portals
You can easily offer online self-care tools that enable customers to make changes themselves, without the need for you to get involved: re-routing calls, add/delete or change extensions, set up payments, and more.
3. Audio-Conferencing
As face-to-face business interaction shifts to phone-to-phone interaction, Audio-Conferencing provides you with a valuable solution to win customers. If you offer a solution that your competitors do not, your VoIP business has an advantage!
4. Mobility
Mobile Softphone apps enable your users to make and receive calls while out of the office. They can even use their business phone numbers both to receive inbound calls and as Caller ID for outbound calls, not to mention attractive capabilities for SMS and peer-to-peer messaging.
5. Any Device
VoIP service providers can offer calling from a wide variety of compatible devices: Desktop Softphones for Windows and Mac, WebRTC for browser-based calling, Mobile Softphones for both Android and Apple iOS, both IP phones and Analog phones.
The opportunity to grow or start a profitable VoIP business has never been more important.
Telinta offers a full portfolio of white label VoIP solutions, so that you and your resellers can serve business customers with the types of services they need, even during unusual circumstances.  Our cloud-based Softswitch and Billing platform enables you to run your business, without needing your own infrastructure.  Your brand.  Your prices.
You can offer in-demand business solutions like Hosted PBX, our cloud-based TeliConTM Audio-Conferencing, Business and Residential VoIP, Brandable Softphones, and more.  Our award-winning Virtual Office solution enables your business customers to use their existing phone lines (home, office or mobile!) to enjoy attractive PBX features, route calls, and configure extensions.
Want to learn more? Contact us today.
Request Info »