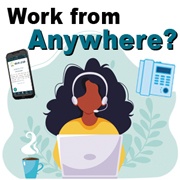 Today's business needs are changing, and this creates significant growth opportunities for VoIP service providers.
Businesses in virtually all industries, around the world, require the flexibility to enable employees to work from anywhere.  If unforeseen circumstances arise, businesses need a way for employees to make and receive business calls from both home and office.
If the office closes, how can businesses easily route calls to a VoIP end-point in the user's home?  If the office opens later, perhaps 2 or 3 days per week, how do they deal with the change? Businesses require the flexibility to work remotely when needed.
The flexibility of VoIP creates significant advantages over legacy telephony provided by incumbent providers in many countries.  This shift to VoIP creates significant opportunity for both existing and new VoIP service providers who can deliver Remote Work Solutions with VoIP.
Request Info »
With Telinta, you can easily offer a full portfolio of flexible VoIP services that enable your customers to work from anywhere, whether in the office, at home, on the road, or any combination of locations.
Hosted PBX: Enable your users to easily route PBX calls wherever needed via a brandable end user portal.  IP phones can be remotely provisioned and used anywhere with a broadband internet connection!
Mobile Extension: Offer convenient mobile extensions with both our brandable Mobile Softphone app, available for free download for both Android and Apple iOS users.
Virtual Office: This unique solution enables your users to customize their own VoIP service via online sign-up and a series of self-serve portals, without needing IP phones for VoIP calls.
Desktop Softphone: Your users can make and receive calls with their desktop and laptop computers via our brandable application for both Windows and Mac.
WebRTC: This web-based softphone can be used to make and receive VoIP calls using a web-based softphone, without installing any software.
Video Calling: Offer video calling via our Mobile Softphone application, or from any video-capable VoIP end-point.
Conferencing: Telinta enables you to offer brandable audio conference bridges, both moderated and unmoderated, to compliment your other business offers.
Telinta's white label solutions enable you and your resellers to offer VoIP services using your own brand, your own prices, and your own VoIP Termination carriers and DID providers.  Customers can work from anywhere, using the compatible devices they need.
Want to learn more? Contact us today.