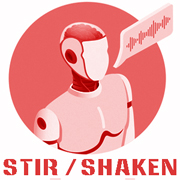 With recent regulatory changes in the US taking effect on September 28, some VoIP providers may be asking "Why are my calls being blocked?"
As part of regulatory efforts to mitigate robocalling, the Federal Communications Commission (FCC) has put forth a set of requirements (known as STIR/SHAKEN) which all telecom service providers (including VoIP providers, regardless of what country they are based in).
This includes popular VoIP services like Hosted PBX, SIP Trunks, calling via mobile and desktop softphone apps, WebRTC, business and residential VoIP, calling card/pinless, and more.
Part of these requirements include registering your VoIP business with the FCC.  Starting September 28, 2021, all VoIP Termination providers and their downstream carriers have been directed by the FCC to block traffic sent to the US by any provider not registered in the FCC's Robocall Mitigation Database (RMD).
For existing VoIP providers who have not yet registered in the FCC's database, this could be the reason for calls to US destinations failing, thus impacting both your revenue stream and your customer satisfaction.  For new providers just starting a VoIP business, FCC registration may be a step to consider, even if you are not based in the US.
If your business serves less than 100,000 customer lines, you may qualify for an exemption from the FCC deadline.  Your legal advisor can explain more.
Request Info »
To help protect your VoIP business, Telinta's cloud-based TeliCore softswitch and billing platform has integrated access to ClearIP, a solution offered by TransNexus for Telinta customers.
TransNexus can also help Telinta customers with FCC registration, developing a robocall mitigation plan, and other important steps in safeguarding your VoIP business. Telinta would be happy to introduce you!
Telinta offers a highly-reliable and highly-available switching platform — and we will never block your traffic due to RMD registration concerns; this blocking is done by VoIP Termination providers and their downstream carriers.
Want to learn more? Contact us today.